Welcome to League of Oregon Charter Schools (LOCS) 
Where all Charter Schools look different, as you can see above, but we all have the same goal in Educational Excellence!
May 2nd, Friday is "Oregon Charter School Day" at the Capital.
We need to show presence at our capital. This day should be set aside to meet your legislators of your district, tour your students through the process of what bills become laws and many more important government related items.  Make an appointment for your students to meet who represents them at the state level. There are museums and state parks to walk to with a sack lunch.  We have 10 tables that can be used by different charter schools to show off their students work (tables in the lobby from 8:00-1:00 pm can be set up for display).  We have reserved two tour groups at the capital. First tour starts at 12:30 pm (3 groups of 25 students which can be different schools) and the second tour at 2:30 pm (3 groups of 25 students which can be different schools).    Maybe your school would like to perform on the Capital Steps, or you have ideas to show a positive presence that day let us know, we want this to be a great experience for everyone. Please sign up for a tour and a table through Debi Lorence: debi@oregonleaguecharters.org
---
How can you be informed and actively involved making a difference at the state level?
Know who your district representative is. Invite them to your school.  Go to where they are.  Write letters of support or oppositions when harmful bills are going to the Senate or House side for vote. Be an active part in support or opposition right now.  
www.oregonlegislature.gov
UPDATES on Charter News:
2-4 charter schools are on the horizon to open this coming fall.  
ODE has tentatively marked May 29-30 for a charter school meeting, both new and old, operators and authorizers. A save the date will be forth coming. Watch their website. http://www.ode.state.or.us/search/page/?id=1338
Are you getting the most up-to-date news from the state department?
If not, ask to be on their email list, these communications are fantastic: super@listsmart.osl.state.or.us
---
Congratulations goes to Self Enhancement Inc. Academy (SEI) for National Recognition as a Title 1 Distinguished School in the area of closing the achievement gap.  We are all so proud of your work!
---
ESEA Flexibility
Five Key Areas of Effectiveness Defined
Effective schools and districts perform well in each of five key areas, which closely align to the
USED seven turnaround principles. Oregon's definitions of the five key areas, and
corresponding turnaround principles, are provided below. Oregon educators consider it
important that turnaround principle five (v) – using data to inform instruction and for continuous
improvement, including providing time for collaboration on the use of data – be woven
throughout all of the five key areas. Therefore, this turnaround principle is not listed separately.
JAN14_key-areas-of-effectiveness.pdf
 States approved for ESEA flexibility

 States with ESEA flexibility requests under review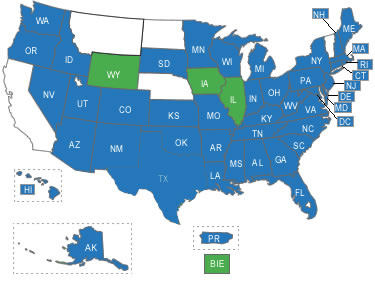 KNOW YOUR LEGISLATOR!
As a charter school it is VERY necessary to know personally who represents your district.  We encourage you all to invite them to your school for lunch and a tour. 
Website to find your legislator: